08/20/2019
SAILUN TEAMS UP WITH VALENCIA CF FOR THE NEXT THREE SEASONS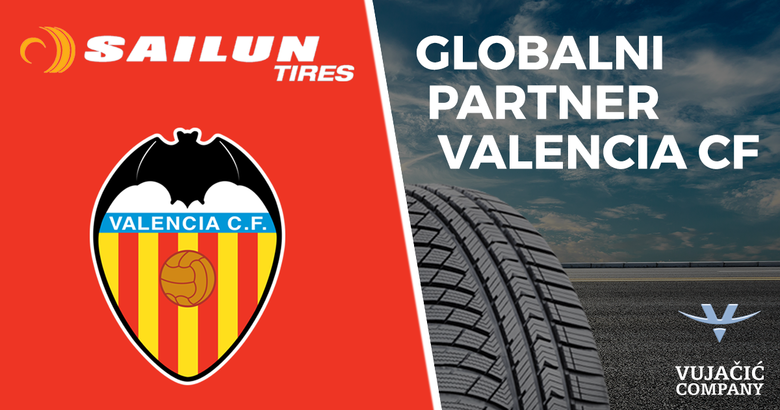 Sailun is proud to announce its first major global sports partnership with Valencia CF, which is one  of the most acknowledged football clubs in La Liga and the one with deeply devoted fans all across the globe. This major announcement signifies the presence of Sailun in La Liga for the first time and starting this preseason, the Sailun logo will be displayed on sleeve of the official gameday kits and training gear of the first team.
Valencia CF president Anil Murthy was the representative and spokesman of the football club during the press release, while Chen Huang, Managing Director of Sailun Tire Europe was the representative of Sailun. Janis Amolins, Sales Director for Europe and Anissa Zaknoune, Sales Manager for Europe were also present. This year Valencia also signed five years endorsment deal with Puma while Bwin, international betting club, will be the club's main sponsor for the next three seasons.
 "Our incredible partnership is based on the reflected values shared between both organizations: embodying quality (football), commitment to our partners (fans), pursuing excellence (on the field), plus incredible levels of teamwork and collaboration. We are extremely excited to work with the wonderful players, staff, and fans of Valencia CF." said Chen Huang, Managing Director of Sailun Tire Europe.
Sailun Tyre is a relatively young company, founded in 2002, but it has grown so quickly and now is present in more than 150 countries around the world. Like Valencia CF, Sailun has global ambitions and has chosen to promote its brand through one of the up and rising global clubs, Valencia Club de Fútbol. As well as Sailun, Valencia is also recognised for presenting spectacular performance and equally relentless commitment in achieving victory. Famous as a home of one of the best youth academy programs in Europe, Valencia CF is focused on investing in future, just like the talented team in Sailun.With this new partnership, Valencia CF becomes an international platform for Sailun Tyre to connect with its customers, among them Valencia CF fans, and to expand its reach across Europe – – letting sports fans and everyday drivers out there discover the true product value Sailun has to offer as the smarter alternative to other more expensive tire manufacturers.
Like Valencia CF, Sailun Tyre has ambitious goals, one of which is to become a top 10 tire manufacturer by the year 2025, and Sailun is prepared to employ all of its assets to do so. This includes the use of modern, smart tyre manufacturing bases in China and Vietnam, plus local R&D bases in Canada, Germany, China, and Vietnam to help support its global operations at a localized level.