11/16/2020
WINTER IS HERE – GET OUT AND ENJOY THE SEASON!
In some parts of the world, winter means piles of snow, sparkling frost and clinking icicles. Elsewhere, it's rain, fog and sleet with only the occasional sprinkling of snowflakes. No matter which climate you will be dealing with during the colder months of the year, winter is whatever you make of it. Enjoying the great outdoors and getting out into the fresh air has never been more important, but winter roads are challenging, so you need the best equipment possible.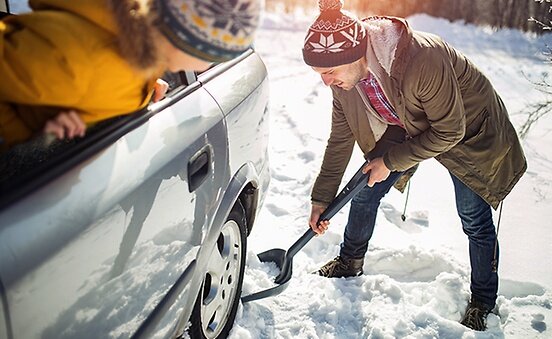 Whether you're looking forward to going skiing in the mountains, building a snowman with the kids, or even just long walks in the woods, here's how to make sure your car will get you there safely:
Get the right winter or all-season tires for the conditions.
Check your tire pressure and tread.
Go through our checklist and put together a winter kit with essentials.
Learn the most important safe driving tips.
Enjoy winter outdoors, regardless of the weather – and the driving conditions.
Dive in to find out more…
WE KEEP YOU SAFE IN WINTER

WHY WINTER TIRES MATTER

We want you to enjoy winter, regardless of the weather – and we want you to arrive safely at your destination, regardless of the driving conditions. Here's why it's so important to have the right tires for winter weather:
Rubber becomes less flexible in the cold. That is why lower temperatures require compounds with a higher natural rubber content.
A softer rubber compound offers better grip and braking performance in the cold.
Specially designed tread patterns are specifically shaped to deal with wet roads, ice or snow.
So-called sipes, small channels cut into the tread blocks, clear water, slush and thin snow.
Nothing grips snow like snow. So, in the case of compact snow, deep tread grooves interlock with snow, providing additional grip.
Depending on where you live and where you will be driving this winter, your tires may need some or all of these features. Find out whether winter or all-season tires are the right choice for you. If you are faced with conditions that require winter tires even occasionally, we highly recommend the switch, even if it isn't required by law. It's a matter of safety.
Find your tire HERE.
Source: Continental